Displaying the Authorize.Net Verified Merchant Seal on your Web site is one of the quickest and easiest ways to create customer confidence and potentially increase sales – and it's free!

The benefits of displaying the Verified Merchant Seal are clear:

Boost Shopper Confidence – Reassure consumers who may be concerned about the security of making online purchases.

Reduce Cart Abandonment – Cut down on shopping cart abandonment due to security and trust concerns.

Increase Credibility – Align your company with one of the industry's best-known payment brands.

How The Seal Works
Log into the Merchant Interface to configure the Web site domain(s) on which you would like to display the Verified Merchant Seal. Then copy and paste the generated seal HTML to the desired area(s) of your Web site(s). When a customer clicks on your Verified Merchant Seal, a site verification window appears showing that you are an active Authorize.Net merchant.
Included:
NO Set Up Fees
NO Cancellation Fees
FREE Tech Support
FREE Virtual Terminal
FREE Online Reporting
FREE Recurring Billing
FREE Invoicing
FREE Tokenization CIM
FREE Developer APIs
FREE Cart Integration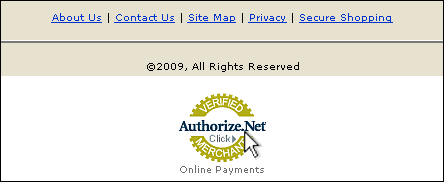 You can configure the Authorize.Net Verified Merchant Seal in your Merchant Interface, as soon as your Gateway is activated!